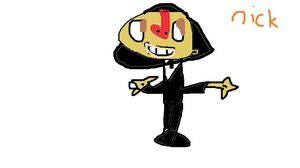 Jorge Rodriguez
Biographical Information
Education & Employment
Physical Description
Personality
Relationships
Character Information
Relevant Pages
GALLERY
Jorge Rodriguez is one of the main characters in the upcoming series,Bebe Muerto. He is voiced by John DiMaggio.
Appearance
Edit
Jorge has black hair, tan skin, brown eyes, and a large red nose. He is dressed in a black suit.
Personality
Edit
He is determined and strong of character, but also hard-headed, slow on the uptake and a bit goofy.